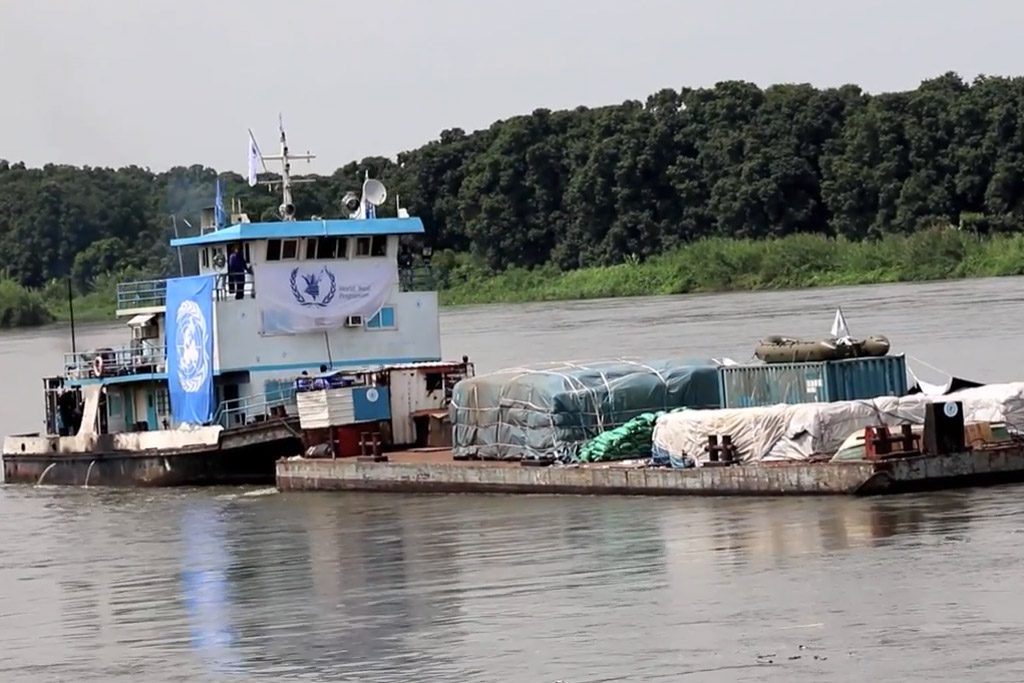 A barge carrying a shipment of food destined for thousands of people in South Sudan has crossed over from neighbouring Sudan, reopening a long-closed river corridor along the Nile, the United Nations World Food Programme (WFP) announced today.
"This is the first time in several years we have been able to use the Nile River to deliver food across the border between Sudan and South Sudan, and we are grateful to everyone who made it possible to re-open this vital supply line," said WFP Acting South Sudan Country Director Stephen Kearney. "This will make an enormous difference in our efforts to bring food assistance to people in critical need."
River transport of humanitarian supplies across the Sudanese-South Sudanese border ground to a halt in 2011 after the border's closure following South Sudan's independence. Its resumption – made possible by collaboration between the two governments – will now permit the UN and its agencies to deliver much-needed humanitarian cargo to thousands of South Sudanese civilians displaced by the country's ongoing civil conflict.
The UN agency noted that river shipping is not only extremely cost effective but helps to reduce dependence on air operations, which costs six to seven times as much as moving food by river and road. The initial shipment will now deliver a total of 450 metric tons of food for the towns of Renk and Wadakona, in South Sudan's Upper Nile state, and is expected to provide food for an estimated 28,000 people over the following month. An additional 21,000 metric tons of food is expected to follow in the coming days.
In an interview with UN Radio, Challiss McDonough, a WFP spokeswoman, warned that the food security situation in the country remained "very precarious" amid continued fighting and the increasing mass displacement of civilians fleeing the violence.
The UN has, in fact, estimated that some 2.5 million people could be in need of food assistance in the first three months of 2015, especially if hostilities in the country continue through the dry season.
"It is a very delicate situation and we are very concerned that if the fighting continues in the New Year that we could be looking at a continued threat of a hunger catastrophe," explained Ms. McDonough. "The river corridor from Sudan is something that has not been available to us for the last several years so we're very pleased that the two governments have made it possible to reopen this very critical supply line."
The security situation in South Sudan has been steadily deteriorating since political in-fighting between South Sudan's President Salva Kiir and his former deputy, Riek Machar, started in mid-December 2013. The hostilities subsequently turned into a full-fledged conflict that has sent nearly 100,000 civilians fleeing to UNMISS bases around the country. The crisis has uprooted an estimated 1.9 million people and placed more than 7 million at risk of hunger and disease.
As a result, the country has experienced several intense bouts of violence over the past few months, including an incident in which the UN base in Bentiu came under fire resulting in the wounding of one child. Meanwhile, a prior attack caused hundreds of people to seek shelter at the nearest airport. Approximately 340 civilians took shelter with UN Mission in South Sudan (UNMISS) troops, and then were escorted to safety.
FRENCH VERSION
Une
barge
transportant
une
cargaison
d'aliments
destinés
à
des milliers
de
personnes
au
Sud-
Soudan
a
traversé
du
Soudan
voisin
,
réouverture
d'un
corridor
de la
rivière
long-fermé
le long
du
Nil
,
le
Programme
des Nations
Unies
d'alimentaire
de
mondial
(PAM)
a annoncé
aujourd'hui
.
"C'est la première fois en plusieurs années, que nous avons été en mesure d'utiliser le fleuve du Nil à livrer de la nourriture à traversla frontière entre le Soudan et le Sud-Soudan, et nous sommesreconnaissants à tous ceux qui ont permis de ré-ouvrir cette ligned'approvisionnement cruciale," a dit le directeur du PAM du Sud-Soudan par intérim Stephen Kearney. « Cela fera une énormedifférence dans nos efforts pour apporter une aide alimentaire auxpersonnes dans le besoin critique. »
Le transport fluvial des fournitures humanitaires à travers leSoudan-sud-soudanais à la frontière au sol pour une halte en2011 après la fermeture de la frontière après l'indépendance du Sud–Soudan. Sa reprise – rendue possible par la collaborationentre les deux gouvernements – permettra désormais à l'ONU etses agences de livrer la cargaison humanitaire indispensable à des milliers de civils soudanais du Sud déplacés par la guerre civile en cours du pays.
L'Agence de l'ONU a noté que l'expédition de la rivière n'est passeulement extrêmement rentable mais aide à réduire la dépendance à l'égard des opérations aériennes, qui coûte six àsept fois plus que le déplacement des aliments par la rivière et laroute. Le transfert initial livrera désormais un total de 450 tonnesde vivres pour les villes de Renk et Wadakona, dans l'état duHaut-Nil du Sud–Soudan et est censé fournir de la nourriture pourenviron 28 000 personnes au cours du mois suivant. 21 000tonnes supplémentaires de nourriture devrait suivre dans lesprochains jours.
Dans une interview à la Radio des Nations Unies, ChallissMcDonough, une porte-parole du PAM, a averti que la situationde sécurité alimentaire dans le pays reste « très précaire » au milieu de la poursuite des combats et la croissante desdéplacements massifs de civils fuyant les violences.
L'ONU a, en effet, estimé que quelque 2,5 millions de personnespourraient être besoin d'une aide alimentaire dans les troispremiers mois de 2015, en particulier si les hostilités dans le payscontinuent pendant la saison sèche.
"C'est une situation très délicate et nous sommes très inquiète dufait que si les combats continuent dans la nouvelle année quenous pourrions nous pencher sur une menace d'une catastrophede la faim," a expliqué Mme McDonough. « Le corridor de larivière du Soudan est quelque chose qui n'a pas été mis à notredisposition pour ces dernières années et nous sommes trèsheureux que les deux gouvernements ont permis de rouvrir cetteligne d'approvisionnement très critique ».
La situation sécuritaire au Sud-Soudan s'est détériorée de façonconstante depuis politiques intestines entre le Président Salva KiirSud–Soudan et son ancien adjoint, Riek Machar, a commencédans le milieu de décembre 2013. Les hostilités s'est ensuitetransformé en un conflit à part entière qui a envoyé près de 100 000 civils fuyant MINUSS bases dans tout le pays. La crise adéraciné environ 1,9 millions de personnes et placé plus de 7millions en péril de la faim et de maladie.
Ainsi, le pays a connu plusieurs épisodes intenses de violence au cours des derniers mois, y compris un incident dans lequel la basedes Nations Unies à Bentiu essuyé des tirs, entraînant la blessured'un enfant. Pendant ce temps, une attaque préalable a fait des centaines de personnes à chercher refuge à l'aéroport le plus proche. Environ 340 civils sont réfugiés avec la Mission des Nations Unies au Soudan du Sud (MINUSS) troupes et puis ont été escortés à la sécurité.