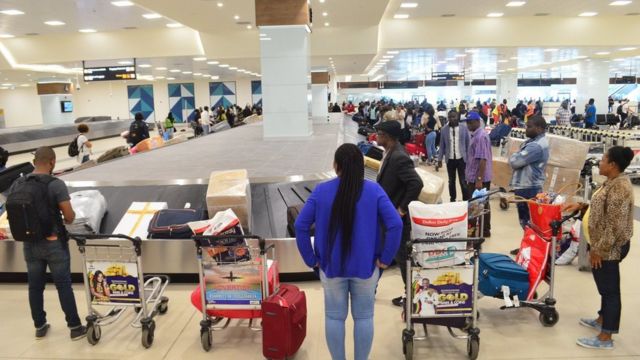 Ghana Airport has been warned of rising in Covid-19 cases – FHS in a letter shows more travelers are arriving in Ghana with Covid-19 – Government has been urged to reinforce the PCR testing Our
This is what YEN.com.gh believes in The Ghana Airport Company has been warned about the high rate of Covid-19 cases being recorded at the Kotoka International Airport. In an emergency letter by the Frontier Healthcare Service (FHS) to the Managing Director of the Airport Company, Yaw Kwakwa, the company revealed that 75 positive cases of Covid-19 were recorded on the 24th of April alone.
"This exceeds the previous highest rate of 45 positive cases on the 21st of April. To this end, the government has been urged to reinforce strict measures on the PCR results acceptable for entry into Ghana.
"It has become imperative to implement new guidelines to curtail the influx of positive cases into the country," the letter warned. READ ALSO Don't destroy expired Covid-19 vaccines, use them – WHO appeals to African countries More passenger arrivals at Kotoka Airport are Covid-19 positive – FHS alerts Ghana Source: Twitter The World Health Organization (WHO) is urging African countries including Ghana not to throw away expired Covid-19 vaccines.
The Organization says the vaccines are safe for use despite their expiry. The appeal comes after Malawi and South Sudan said they would destroy more than 70,000 doses of the Oxford-AstraZeneca jab because they expired in mid-April, the BBC reports. "My appeal to member states is: if we are doing our part to mobilize these vaccines, you do your part and use the vaccines," John Nkengasong, director of the Africa CDC stated.
Recent figures from the Ghana Health Service (GHS) show that Ghana's Covid-19 cases have dropped to 25. So far, 555,259 vaccine doses have been administered to the arms of over 250, 000 Ghanaians, the GHS has stated.
Ghana's nationwide inoculation program has been commended by many including the World Bank which believes the economy will grow by some 2 percent in 2021
19 test results to be digitally verified to stop people with fake certs from traveling – GHS Despite the gains, the government is leaving nothing to chance. So far, police officials have been deployed across all beaches in coastal areas.
This is to ensure that revelers do not flout Covid protocol. Enjoy reading our stories? Join YEN.com.gh's Telegram channel! Never miss important updates Download YEN's news app on Google Play now and stay up-to-date with major Ghana news